Winner of the Aurora Award. Hugo Award Finalist. Nebula Award Finalist. Theodore Sturgeon Memorial Award Finalist. Locus Award Finalist. Published March 2018, Edited by Ellen Datlow
Trade paperback, ebook, and audiobook available at your favorite indie bookstore, or:
Amazon US | Amazon Canada | Amazon UK | Barnes & Noble
Books-a-Million | Chapters Indigo | IndieBound | Powells | iTunes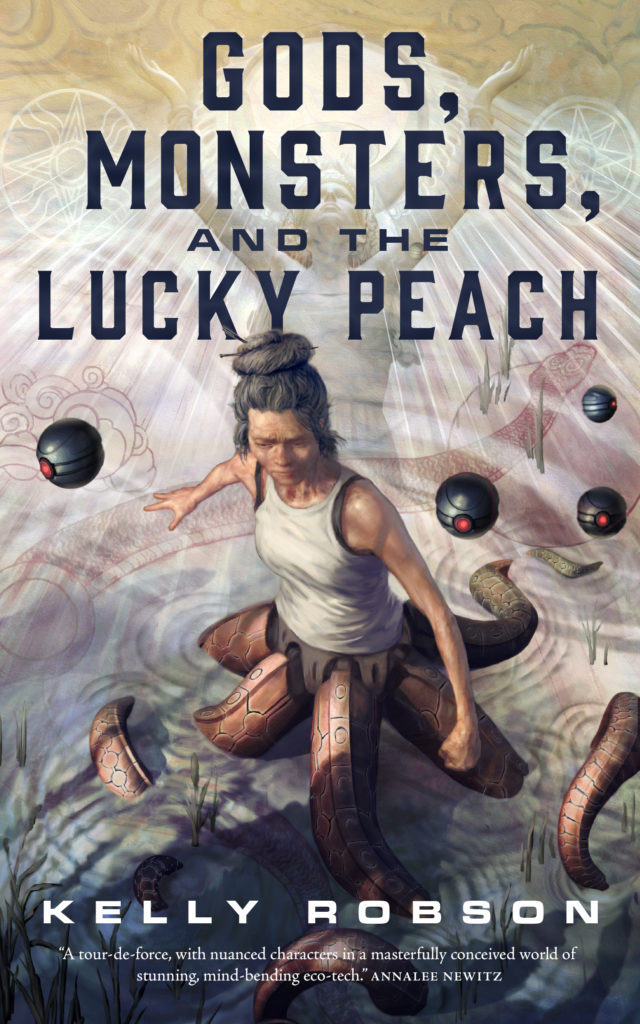 Image Description: The cover of Gods, Monsters, and the Lucky Peach shows an old woman with octopus-leg prostheses fastened to her hips. She is crouching in shallow water in a defensive posture, as mechanical drones circle overhead.
From the publisher:
Discover a shifting history of adventure as humanity clashes over whether to repair their ruined planet or luxuriate in a less tainted past.
In 2267, Earth has just begun to recover from worldwide ecological disasters. Minh is part of the generation that first moved back up to the surface of the Earth to reclaim humanity's ancestral habitat. She's spent her entire life restoring river ecosystems, but lately Minh's kind of long-term restoration projects have stalled due to the invention of time travel. When she gets the opportunity take a team to 2000 BC to survey the Tigris and Euphrates rivers, she jumps at the chance to uncover the secrets of the shadowy think tank that controls time travel technology.
Praise for Gods, Monsters, and the Lucky Peach
"Thrums with a delicious tension carefully developed among the wonderful characters." Amal El-Mohtar, NEW YORK TIMES (link)
"Packs an enormous wallop of imagination and worldbuilding." BARNES & NOBLE (link)
"This richly imagined adventure marks Robson as an author to watch." PUBLISHER'S WEEKLY (link)
"Robson, who has garnered major award nominations in a career of only a few years, builds both her future and ancient worlds with convincing detail for such a short novel, populating them with characters who are believable and engrossing, even when they have tentacles. It's likely to be one of the most impressive debut novels of the year." – Gary K. Wolfe, CHICAGO TRIBUNE (link)
"If the mark of a good book is that regardless of length, it leaves you panting for more, then Gods, Monsters, and the Lucky Peach is one of the greats. … Sci-fi fans and non-sci-fi fans alike should pick up a copy of Gods, Monsters, and the Lucky Peach. There's enough wicked cool tech to satisfy hard SF geeks, character development to please SF dilettantes, and fantastic storytelling to enamor everyone else." – Alex Brown, TOR.COM (link)
"The story is a marvel." Adrienne Martini, LOCUS
"A powerhouse novella filled with nuanced character, thoughtful speculation, and a devilish sense of humor." Jonathan Strahan, LOCUS (link)
"This story cements her as a science fiction powerhouse and one to watch in the coming years." GRIMDARK MAGAZINE (link)
"This whip-smart audiobook is sci-fi gold." AUDIOFILE (link)
"Not one word is wasted in this story, which has all of the future tech gee-whiz you could want but never forgets to make the characters hu­man. Even when they are a god or a multi-legged cyborg." Adrienne Martini, LOCUS (link)
"I'm a sucker for a good time travel story. Robson has managed to write two good time travel stories; one which takes us to a wildly imaginative future, and one which takes us to a vividly conceived and just as alien far past at the dawn of civilization… and they're the same story. It's a tour de force; the structure is innovative but not obtrusive, the characters are great—including the ancient king—and very human and very alien. As you may have guessed, I really like this book." – S.M. Stirling
"The sheer richness of invention in Robson's story… is close to astonishing, and her conclusion is both surprising and dramatically appropriate. If there had been any doubt that Robson is one of the most accomplished and versatile new writers, Gods, Monsters, and the Lucky Peach should dispel it." – Gary K. Wolfe, LOCUS (link)
"Challenges and delights." POPULAR MECHANICS Best SF Books of 2018 (link)
"Gods, Monsters, and the Lucky Peach is a splendid read, one that had me wanting far more by the time I turned the last page." THE VERGE (link)
"Rich, nuanced characters, deeply compelling story, and a powerfully conceived world make Gods, Monsters and the Lucky Peach one of the best novellas of recent times, one of the highlight books of 2018, and something to look for on awards ballots come 2019." – Jonathan Strahan (link)
"An intriguing take on the time travel story, and a rich, believable cast that inhabits it. … Robson creates a nuanced take on how time travel can be used in science fiction beyond the typical "prevent event from happening" trope. Time travel is treated thoughtfully here, with rules and consequences that enrich the novel to the last page. – RT BOOK REVIEWS (link)
"A full-blown success." THE IMAGINARIES (link)
"Escapism isn't a dirty word in my lexicon, but hopefully we keep getting books like Lucky Peach, that balance out fantasy with the long, uncertain, but rewarding work to fix our world." FICTION UNBOUND (link)
"Lucky Peach is a tour de force, with nuanced characters in a masterfully conceived world of stunning, mind-bending eco-tech. Plus, it's got one of the most believable representations of time travel ever, because it involves government bureaucracy, environmental impact reports, and grant applications. Absolutely brilliant storytelling. I didn't want it to end." – Annalee Newitz, co-founder of I09 and author of AUTONOMOUS
"The far future, the distant past. Time travel, bioengineering, office politics — and ecological consulting. How could I not love this?" – Peter Watts, author of BLINDSIGHT and ECHOPRAXIA
"A necessary meditation on the nature of change and the sacrifice required to manifest it, Robson's novella pulls no punches, spares no rods, and leaves no idea unexamined." – Madeline Ashby author of COMPANY TOWN
"Kelly Robson tells one hell of a story." NERDS OF A FEATHER (link)
"God's, Monsters, and the Lucky Peach isn't just another entry into this ever-expanding canon it's also easily the most imaginative" – Ian Mond (link)
"Robson does an excellent job of setting up interpersonal conflict… it is a joy to watch each character evolve and grow in their attitudes and relationships over the course of the story. The structure is clever, with two timelines converging on a single point, adding to the level of tension, and the world-building is fantastic." – A.C. Wise (link)
"An excellent tale that's worth reading." – Brandon Crilly, BLACK GATE (link)