My lesbian stoner buddy comedy with fairies about Brexit is out in the world! Available in trade paperback, ebook, and audiobook at your favorite indie bookstore, or: Amazon US | Amazon Canada | Amazon UK | Barnes & Noble | Chapters Indigo | Kobo | Books-a-Million | Indiebound | iTunes | Macmillan
Thursday, August 11 at 6PM Central/7PM Eastern (virtual event)
New Orleans bookstore Tubby and Coos hosts a virtual event with Nicola Griffith and me, on Thursday, August 11 at 6PM Central/7PM Eastern (to attend, you must register here).
Nicola has just published the superb queer Arthurian book SPEAR. We have thoughts about historical fantasy and probably will gab like wildfire. It'll be fun!! (And if you haven't read SPEAR yet, get it in your eyes.)
Friday, August 12 at 6PM Mountain time, 8PM Eastern (virtual panel)
Colorado bookstore Old Firehouse Books has Alix E. Harrow, Rachel Swirsky, and me at their Summer SpecFic Panel. All info is here — the event will stream to the bookstore via Facebook.
Saturday, August 13, at 3 PM Eastern
Live launch at Bakka Phoenix Books in Toronto
My book launch will be in person at Toronto's Legendary Bakka Phoenix Books, (map). There will be cake! And laughs! Please come if you're in Toronto, I'd love to see you!
Want a signed, personalized copy of HIGH TIMES IN THE LOW PARLIAMENT, but aren't in Toronto or prefer to avoid strange germs (which is totally understandable!)? Order from Bakka Phoenix and I will sign it! In the instruction field, just let them know who the book should be dedicated to.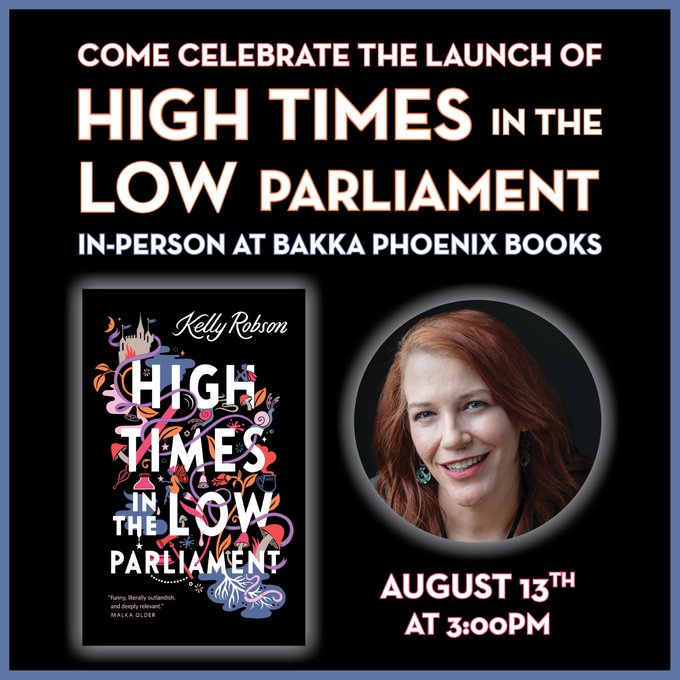 September 1 to 5
WorldCon in Chicago
The schedule isn't finalized, but I'll definitely be doing a kaffeeclatch, a signing, and a reading, along with several panels. See you there, I hope!
October 14 to 16
Can-Con in Ottawa
Ottawa's Can-Con is one of my favorite conventions, attended (and organized!) by so many of my favorite people. I'll definitely be there. You should be, too!
November 11 to 13
GoH at WindyCon
Alyx and I are excited to be Guests of Honor at WindyCon, in Lombard, IL. Come and hang out with us there this November!