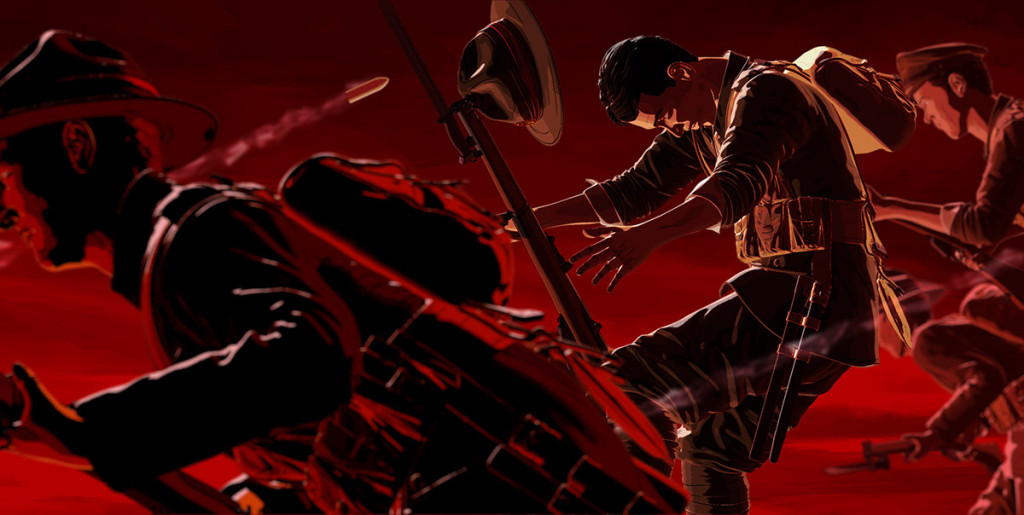 Alyx and I have begun to suspect that Jackman Hall, the TIFF venue attached to the Art Gallery of Ontario which is around the corner from our condo, is a bit of an art film ghetto during TIFF.
Today, this worked out 50/50 for us. Leanne Pooley's 25 April was really worth seeing — a festival favorite for us both. It's an animated documentary of the Battle of Gallipoli, and it was utterly gorgeous, great art, good storytelling, terrific sound design, a well-developed movie in every way. We loved it. A must-see. The sheer originality of making a documentary-style animated film about a historical event would have made it a brilliant movie, but the quality of the production was simply terrific, too. We both loved it.
But we were disappointed with our other showing today, double feature Faux Depart and Sector IX B. Faux Depart is a short film about the burgeoning fossil hunting (and fossil faking) industry in Morocco. A very slight film focused narrowly, and with nearly no sound. Interesting, but not exactly the kind of event you go to a theatre for — more like the kind of thing you see in an art museum alcove. And Sector IX B, though longer, was even less developed. Ostensibly, it followed a French researcher in the field of History of Ethnography in Africa, but it had no story, referred to a few points but didn't actually make any, and the imagery wasn't memorable. Worst disappointment of the festival so far. In fact, it was so off-putting that we're seriously considering skipping our last Jackman Hall film tomorrow just to avoid risking getting bitten again.