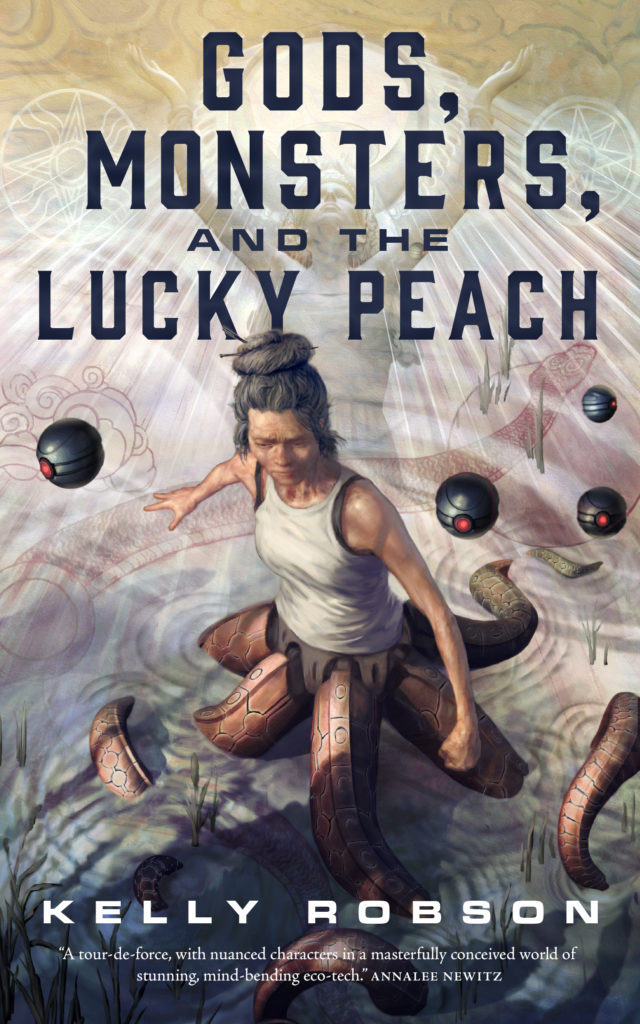 My time travel novella Gods, Monsters, and the Lucky Peach is ready for preorder! The release date is March 13, 2018 in both trade paperback and ebook. Pre-orders matter, so if you're inclined, please do!
Here are the links:
Check out these amazing blurbs! How  could anyone resist?
"Gods, Monsters, and the Lucky Peach is a tour-de-force, with nuanced characters in a masterfully conceived world of stunning, mind-bending eco-tech. Absolutely brilliant storytelling. I didn't want it to end." ―Annalee Newitz, co-founder of io9 and author of Autonomous

"The far future, the distant past. Time travel, bioengineering, office politics ― and ecological consulting. How could I not love this?" ―Peter Watts, author of Echopraxia

"A necessary meditation on the nature of change and the sacrifice required to manifest it, Robson's novella pulls no punches, spares no rods, and leaves no idea unexamined." ―Madeline Ashby, author of Company Town
And here's the cover copy:
Experience this far-reaching, mind-bending science fiction adventure that uses time travel to merge climate fiction with historical fantasy. From Kelly Robson, Aurora Award winner, Campbell, Nebula, and Theodore Sturgeon finalist, and author of Waters of Versailles

Discover a shifting history of adventure as humanity clashes over whether to repair their ruined planet or luxuriate in a less tainted past.

In 2267, Earth has just begun to recover from worldwide ecological disasters. Minh is part of the generation that first moved back up to the surface of the Earth from the underground hells, to reclaim humanity's ancestral habitat. She's spent her entire life restoring river ecosystems, but lately the kind of long-term restoration projects Minh works on have been stalled due to the invention of time travel. When she gets the opportunity take a team to 2000 BC to survey the Tigris and Euphrates rivers, she jumps at the chance to uncover the secrets of the shadowy think tank that controls time travel technology.