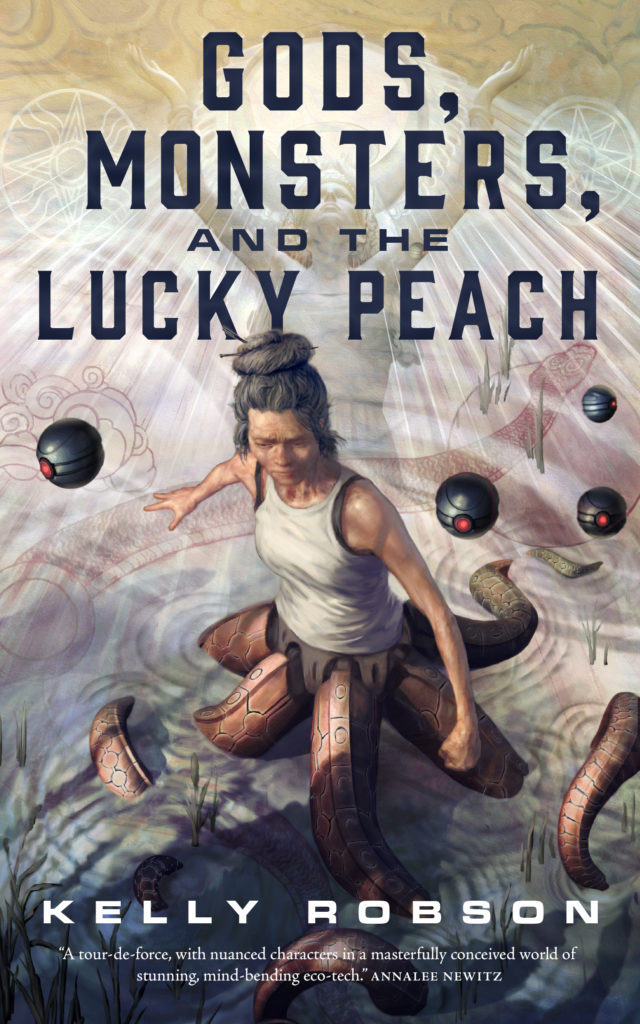 Publishing is a waiting game. I've only been waiting for about a year since signing the contract for Gods, Monsters, and the Lucky Peach, so I really shouldn't complain. Most writers wait two years or more for their books to come out with a major publisher. Still, it feels like forever.
But now it's nearly here! Gods, Monsters, and the Lucky Peach hits on March 13. Reviews have been very positive and the book has a lot of buzz. Here's two recent review quotes:
Gary K. Wolfe – Chicago Tribune says:
Robson, who has garnered major award nominations in a career of only a few years, builds both her future and ancient worlds with convincing detail for such a short novel, populating them with characters who are believable and engrossing, even when they have tentacles. It's likely to be one of the most impressive debut novels of the year.
Scifi and Scary says:
You'll be missing out if you don't read this.
Second-time Nebula Finalist!
My Lesbian Gothic Horror novelette "A Human Stain" is up for a Nebula Award! How cool is that? I was a Nebula finalist in 2015, and it was a heck of a heady experience. Now I get to do it again! Whoop!
March is filled with STUFF. Here's what I have on the go:
Intersection Comedy Show
I'm participating in the Intersection Improv Comedy Show on Wednesday, March 7. I'm going to be telling three of my most embarrassing moments, and then the troupe will make hay with my story.
Wednesday, March 7 at 8:00 PM to 9:30 PM
The Social Capital Theatre
154 Danforth Ave – Second Floor
International Conference on the Fantastic in the Arts
I'll be in Orlando at ICFA March 16-17, reading on Saturday at 4PM. ICFA is an academic conference that a lot of writers feel very romantic about because it's so low pressure. Basically you just hang out with your friends. Alyx and I went last year and absolutely loved it.
KGB Fantastic Fiction Reading, March 21
I'm reading with Chandler Klang Smith at KGB Fantastic Fiction in New York. Can't wait!
Wednesday, March 21, 2018, 7pm
KGB Bar, 85 East 4th Street (just off 2nd Ave, upstairs)
Book Launch at Toronto's Bakka-Phoenix
The launch party for Gods, Monsters, and the Lucky Peach will be on Saturday, March 24.
Saturday, March 24 at 3:00 to 5:00 PM
Bakka-Phoenix Books – 84 Harbord St, Toronto
Cake – Live Reading – Music – Book Signing  – More Cake
I'll be making BOTH of my famous carrot cakes. Come for the cake!